Welcome to RTU MIREA
Welcome to RTU MIREA
MIREA – Russian Technological University is a leading state university formed as a result of the merger of the Moscow Institute of Radio Engineering, Electronics and Automation (MIREA), MGUPI, MITHT named after M.V. Lomonosov and a number of research institutions. The University is currently offering most popular educational programs in IT, computer security, electronics, radio engineering, robotics, chemistry and other spheres; it also provides broad opportunities for further education.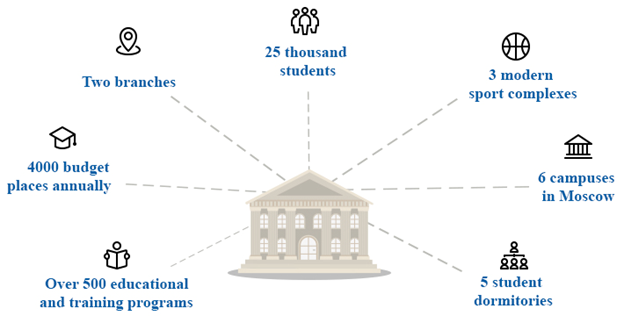 The Potential of 3 Universities
MIREA - Russian Technological University is the result of the association of MIREA, MGUPI, MITHT named after M.V. Lomonosov and a number of large educational, research and development, design and production organizations. The restructuring has led to a synergy effect and increased manifold the already accumulated knowledge, expertise, human resources, material and technical base of the University.
Qualified academic staff
Among the University staff, there are members of the Russian Academy of Sciences and other Academies, professors and doctors of sciences. 77 % of the staff have academic degrees and titles. Leading foreign scholars and professors are invited to lecture, conduct courses in various subjects and disciplines. Starting from their 3d year students are trained in specialized departments by practicing designers, chief engineers and even CEOs of enterprises.
State University
Upon graduation from MIREA – Russian Technological University – graduates receive a state diploma recognized both in Russia and abroad
Congenial environment for studying and leisure
The educational and training process is organized across 8 campuses located fairly close to Moscow metro stations. All of them have up-to-date equipment, multi-service infrastructure, and high-speed Wi-Fi. There are cafes, libraries, and conference rooms in the campuses territories.
Six student dormitories in Moscow
The campus of RTU MIREA accommodates over 3,500 nonresident students, post-graduates and doctoral students. The buildings are comfortable to live in, study, go in for sports and engage in recreational activity. If additional places are needed, the University accommodates its students in dormitories of partner universities.
Education in RTU MIREA is a guarantee for successful employment

Training programs in various areas of study and specialties:
IT and automation 24.3 %


IT Engineering and Technologies 15.6 %


Economics and Management 14.9 %


Chemistry 14.1 %


Security 12.9 %


Electronics and nanotechnology 7.6 %


Radio engineering and telecommunications 6.9 %


Jurisprudence 2,6 %


Design 0,8 %
Demand for graduates
99 % of University graduates are employed, including those working in senior positions. They are highly in demand in partner companies and at industrial enterprises in general.
Order of the day educational programs
The University has over 500 educational programs. The University is implementing each of them because of its obligation to the students to provide only relevant knowledge and useful skills that will further be helpful in students finding decent and well-paid work.
Training to work in high-tech areas
Students of RTU MIREA are engaged in the implementation of R & D and design and construction work in electronics, radio engineering, aerospace industry and other high-tech industries using advanced and expensive equipment in the University research centers and laboratories. They are also actively participating in international research projects.
Opportunities for additional education
For our students, we strive to create feasible opportunities for professional growth and personal development and, thus, ensure a successful start in the labor market for them. University students have ample opportunities to get additional education: there is a choice of joint programs with major IT companies (Cisco, Microsoft, Huawei, 1C-Bitrix, etc.), foreign language courses (English, German, Spanish, Japanese, etc.), MBA, joint programs with the All-Russian State Television and Radio Broadcasting Company - Academy of TV, auto and motorcycle school and more. Training takes place at the University sites, and prices tend to be much lower than in commercial structures.
Study abroad
Over 60 foreign partner universities
About 40 countries where students can take internships and exchange programs
Most student programs are free.
Joint programs with IT companies:





Learning foreign languages
English Italian Chinese
German Spanish Japanese
French Swedish
Preparation for MBA

LCCI International Qualifications

FCE, CAE, TOEFL, IELTS

Норёку сикэн
Exciting student life


The University created the Student Union which unites all activists of the University. Free classes are organized for students in theater, vocal and dance studios, there is a school of guitar playing. KVN (wits and humor competition), the OPEN AIR festival, the School of Survival; there are photo and mountaineering clubs, pedagogical, rescue, search and archaeological teams.
Sports opportunities
The University has three modern large sports complexes, where everyone can attend numerous sports sections: from fitness and cheerleading to football and powerlifting. On the territory of the complexes there are indoor tennis courts, volleyball and basketball courts, a swimming pool and even a climbing wall.
Student union
Over 7,000 members
More than 20 major events annually
Social and legal protection of students
Organization of leisure and recreation, sporting events
Youth initiatives support
7 sports sections
Football
Volleyball
Basketball
Table tennis
Badminton
Karate
Boxing
Science and education
33 student scientific associations
Radio engineering
Cyber security
Mobile Development
Sensor networks
Quantum electronics
Fine chemical technologies
English philology and culture and dozens of other activities
University teams
Football
Mini football
Basketball
Volleyball
Tennis
Swimming
Chess
Cybersport
Every year the teams participate in district, city and All-Russian competitions and Moscow student sports games
Interest groups
Pedagogical
Rescue
Search and Archaeological
Building
Social
Mountaineering
Career guidance
Student Creative Club
over 20 creative teams
over 300 students
Chamber choir
Amateur club
Dance studio
Guitar school
Photo studio
The Club members annually participate in Moscow, Russian and international festivals.