Digital and additive technologies in mechanical engineering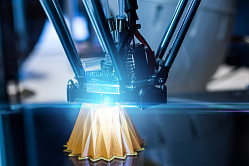 The program is focused on current machine manufacturing processes, including additive processes as the most dynamically developing and promising techniques associated with the building of digital three-dimensional models, production planning and maintenance involving 3D printers and other installations for additive manufacture.

Students will be able to research and design processes for additive manufacture of products out of polymers and metallic materials using computer (digital) 3D models of any complexity, to incorporate additive techniques in the manufacturing of engineering products, to design component manufacturing processes with the use of relevant software and computer-aided design systems, and to implement such processes by operating and programming modern CNC hardware.

Completion of the program enables the student to solve current issues of machine manufacture process support, to perform comparative analyses of different processes and to choose the optimal one; to conduct research in the field of additive and mechanical production processes in mechanical engineering, and to control product quality at all stages of the production process.

Alumni can be employed as
manufacturing engineer
researcher
research engineer
Program subjects
Mechanical and additive manufacture technologies
Digital model development for additive manufacturing
3D printing materials and technologies in mechanical engineering
Real-object digitization techniques and tools
Equipment and tooling of mechanical and additive manufacturing
Product control methods in additive manufacturing
Assurance of production process accuracy
Programming of numerically controlled equipment
Automated production process design systems
Graduating department:
Digital and Additive Technologies Department