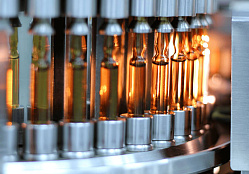 In the course of training, students receive theoretical knowledge and practical skills in the organization, planning and management of on-going pharmaceutical, chemical-pharmaceutical, biotechnological processes, and chemical production.

The program provides for the development of skills for working with academic documentation and technical specifications and regulations for the production of pharmaceutical substances and finished dosage forms; conducting of pharmaceutical and chemical-pharmaceutical processes and industries in conformity with legal and regulatory national and international acts; organization and implementation of quality control of raw materials, semi- and finished products. Due to the organized specialized departments at the University, students can take practical training courses and internships at industrial facilities of partner organizations.

The topics of the master's theses are both of academic and practical significance and are done on the request of partner enterprises under the guidance of experienced faculty members of the department. Thus, starting from the first year, students have a chance to interact with potential employers while engaged in current research.


Alumni can be employed as
process engineers (biotechnologists)
registration specialists
specialists in pharmaceutical production validation
specialists in the organization of scientific research
specialists of the quality control department
Program subjects
Life cycle of a medicinal product
Medicines quality assurance system
Technology of finished dosage forms
Validation of pharmaceutical production
Formulation development
Bioethics
Preclinical research and clinical trials
Legal acts and regulations for the creation and organization of medicinal drug production
Pharmacovigilance
Fundamentals of drug production organization
Microbiology and industrial sanitation in pharmaceutical production
API production technologies
Standardization of raw materials of plant origin
Standardization and quality control of medicines
Graduating Department:
Department of Biotechnology and Industrial Pharmacy