Chemistry and technology of basic organic and petrochemical synthesis products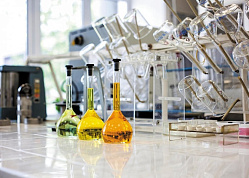 The training is focused on those students who are interested in chemical technology aimed at developing processes and industrial methods for producing organic substances, studying catalytic reactions, as well as creating methods for separating and purifying substances. The educational program is based on disciplines relating to the study of the laws of chemical reactions, catalysis, heat and mass transfer processes, mathematical modeling and, on this basis, the development of chemical technologies for obtaining a wide range of organic substances from natural or technogenic raw materials.

Students learn to conduct experimental research, propose scientifically grounded technical solutions, perform calculations, mathematical modeling and optimization of chemical engineering systems. During the training process, students receive theoretical knowledge and practical skills in developing new and improving existing technologies for organic substances. They acquire skills of experimental work, participating in joint projects with the institutes of the Russian Academy of Sciences - partners of the master's program.

The training program provides for a profound study of the theoretical foundations and the specific organization of the technological process for the production of basic organic and petrochemical synthesis, catalytic processes, and the production of carbon materials. The structure of the program provides training for students in creating new and improving existing technologies based on a systematic analysis of technological systems and their elements. Undergraduates are trained using modern equipment and licensed software systems for modeling technological schemes.

Alumni can be employed as
chemist-technologist
chemical engineer
researcher
Program subjects
Mechanisms and kinetic models of catalytic reactions
Thermodynamic-topological analysis of phase diagrams and separation processes
Chemistry of natural energy carriers
Chemical technology of organic substances
Applied catalysis
Optimization of chemical technological processes
Research methods of chemical technological processes
Engineering of catalytic reactions
Methods for obtaining and studying catalysts
Graphometry of technological schemes
Graduating departments:
• Department of Chemistry and Technology of Basic Organic Synthesis
• Department of Technology of Petrochemical Synthesis and Artificial Liquid Fuel named after A.N. Bashkirova
• Department of General Chemical Technology