Materials science and functional materials technology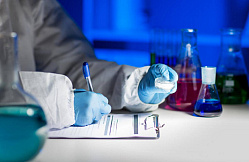 The program will be of interest to those willing to become professionals in the field of modern structural and functional polymeric and semiconductor materials, including nanocomposites, and in the production processes of composite materials, parts and units. The program may also interest those focused on the development and application of new materials with special, unique or versatile properties.

Students receive theoretical instruction and practical training in developing, producing, exploring, modifying, and use of polymer composite materials for the aerospace, shipbuilding, nuclear power, medical equipment and other high-tech industries.

Classes are held in the university's state-of-the-art training laboratories as well as the research laboratories of partner institutes and companies. The training program is adapted to the needs of specific employers and is implemented in close cooperation with them.

Alumni can be employed as
researcher
section supervisor
manufacturing engineer
chemical engineer
research engineer
work shift foreman
materials scientist
materials engineer
Program subjects
General materials science and technology
Physical and chemical methods of materials research
Electrophysical properties of materials
Powders, films and fibers
Methods of scientific research of materials
Polymer chemistry
Physics and chemistry of electronic engineering materials
Corrosion and metal protection
Polymer recycling engineering
Inorganic materials and products engineering
Materials and coatings engineering
Raw materials and manufacturing equipment for polymer products
Manufacturing equipment for inorganic functional materials
Production of metallic powders, fibers and filamentous crystals
Polymer physics and mechanics
Physics of inorganic functional materials
Physics and chemistry of metal composites
Graduating department:
B.A. Dogadkin Department of Materials Physics and Chemistry