Corporate and distributed information systems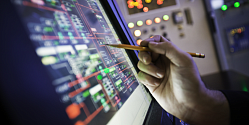 Students receive theoretical instruction and practical training in design, building, implementation and support of corporate information systems in applied fields; they learn to model and improve applied and informational processes.
The laboratories are equipped with state-of-the-art computer, network, multimedia and office equipment intended for studies and independent work, along with one-off and scheduled research projects and developments. Special attention is paid to the best domestic and foreign practices based on Russian and international standards of modeling, design and development of business processes, data warehouses, and information system and software architecture. The program trains specialists who are capable of creating, implementing and maintaining professionally oriented information systems, including corporate, in applied areas.

Alumni can be employed as
IT project manager
product owner
software architect
IT division chief
Program subjects
Fundamental and applied information technologies
Corporate information systems
Distributed information systems
Systems and user support services
Design and development of databases and data warehouses
Methods and tools of managing organization-level data
Data processing methods
Software for corporate information systems
Design of corporate information systems
Graduating department:
Practical and Applied Informatics Department