Chemical technology and polymer processing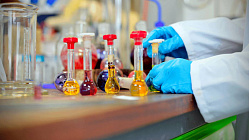 In conformity with the program, qualified personnel is trained, specifically those who have mastered up-to-date technologies for the synthesis and processing of polymers for high-tech industries. The training is based on modern achievements of science and technology in chemistry, technology for processing polymer materials, and manufacturing products based on them.

The professional activity of graduates includes developing methods and means to obtain substances and materials, as well as the development of methods to receive products for various purposes on their basis; conducting chemical and physical analysis of substances and materials; carrying out research and monitoring properties of substances, materials and products.

Areas of research are associated with the development of unconventional technologies for the production of monomers and polymers for agriculture, mechanical engineering, defense industry, medicine and space.

Particular attention in training Bachelor's degree holders is paid to the study of the interconnection between the structure, composition and properties of polymers. Practical classes are held in educational laboratories with modern equipment.

Alumni can be employed as
chemical engineers
process engineers
research engineers
master technologists
Program subjects
Chemistry and physics of polymers
Polymer synthesis technology
Technology for the synthesis of monomers
Technology of plastics processing
Elastomer processing technology
Scientific research in the field of technology and polymer processing
Processing of organosilicon monomers and polymers
Technology for the production of plastic products
Technological aspects of processing elastomeric materials
Technology for the production of products from polymer materials
Chemical technology for processing elastomeric materials
Information technology in the chemistry of organosilicon monomers and polymers
Basic rules and laws for creating polymer composite materials
Graduating departments:
• Department of Chemistry and Technology of Elastomer Processing named after F.F. Kosheleva
• Department of Chemistry and Technology of Organo-element Compounds named after K.A. Andrianova
• Department of Chemistry and Technology of Plastics and Polymer Composites Processing