Computer systems and techniques to process medical, biological and environmental data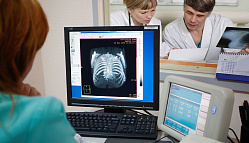 Biocybernetics studies the general laws of information transfer, processing and storage in biological systems, and model the structure and behavioral patterns of living systems. Such modeling includes creation of artificial systems reproducing certain vital activities of organisms, their internal connections and relations.
The curriculum provides students with theoretical knowledge and practical skills in the development, operation and maintenance of biomedical equipment, biotechnical systems and technologies associated with the monitoring and management of living systems and maintenance of people's working conditions.

Alumni can be employed as
computer system engineer and analyst
developer and integrator of biotechnical systems and technologies for medical, environmental and biometric purposes
researcher in medical data processing based on modern information technologies and tools
researcher in experimental biomedical data analysis
biomedical research implementation engineer
information processing engineer for medical equipment market projections
Program subjects
Fundamentals of biology
Human anatomy and physiology
Biochemistry
Biophysics
Biomedical signal processing and analysis techniques
Biomedical research automation
Structural materials and biomaterials
Analog and digital converters in medical equipment
Microprocessor-based devices in biotechnical systems
Medical sensors and electrodes
Medical databases and expert systems
Bioprocess and system modeling
Diagnostic testing techniques and effects of biomechanical therapies
Fundamentals of medical device and instrument design
Fundamentals of interaction between physical fields and bioobjects
Biotechnical system units and components
Medical device and equipment design systems
Life support and rehabilitation systems
Functional diagnosis equipment
Biomedical analytical technology
Surgical and therapeutic equipment
Cytology
Radiobiology
Technical design of medical equipment
Telehealth
Graduating department:
Biocybernetic Systems and Technologies Department