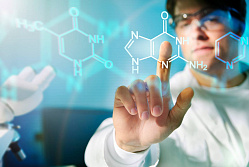 The training program has been developed for students interested in chemical elements, simple molecules and complex compounds in various aggregate states (inorganic and organic substances and materials), obtained as a result of chemical synthesis (laboratory, industrial) or isolated from natural objects, and their practical application.

In the process of training, students receive theoretical knowledge and practical skills in physical, inorganic, organic, colloidal and analytical chemistry, study modern methods of analysis and ways to ensure the reliability of their implementation. Particular attention is given to the preparation and properties of nanoscale materials and methods of their study.

Students are involved in joint research projects with laboratories of research institutes of the Russian Academy of Sciences active in priority areas of development of science and technology.

Alumni can work professionally in various area (education and science, healthcare, agriculture, various types of industry and production), as well as engage in R&D (research and development of new types of products and functional materials, quality control of raw materials, semi-finished products and finished products).

Alumni can be employed as
chemists
analytical chemists
expert chemists
research chemists
Program subjects
Research methods in chemistry
Chemistry of transition elements
Chemical bases of biological processes
Chemistry of complex compounds
Modern approaches to planning chemical processes
Complex compounds
Practical applications of spectral methods in analytical chemistry
Technology of colloids and nanosystems
Principles and practical applications of catalysis
Synthesis and research methods of coordination compounds
Theoretical foundations of modern methods of analysis
Physicochemical foundations of photochemical processes
Structure formation of dispersed systems
Modern organic synthesis
Practical applications of electrochemical methods in analytical chemistry
Methods for obtaining inorganic compounds
Graduating departments:
• Department of Inorganic Chemistry named after A.N. Reformatsky
• Department of Analytical Chemistry named after I.P. Alimarina
• Department of Physical Chemistry named after Ya.K. Syrkin
• Department of Colloidal Chemistry named after S.S. Voyutsky