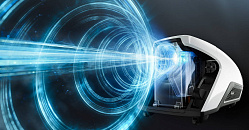 The program trains specialists in the development and operation of modern precision technologies in fiber optics, opto-electronics and precision instrument manufacture for science-based enterprises and organizations in the electronic and instrument-making industries, the aerospace and military-industrial complexes.

Students of the program master the skills required to manage high-technology optical and opto-electronic system projects, to formulate the objectives of optical engineering research, to choose the best methods and hardware for experimental studies and measurements, to process their results, to develop fiber-optic, laser-cutting and optical material treatment techniques.

Students acquire these skills using modern equipment in the Fiber Optics Laboratory, Optical Materials and Measurements Laboratory, Special Polymer Composites Laboratory and others. They gain hands-on work experience during industrial internship followed by permanent employment at optical and electronic industry enterprises.

Alumni can be employed as
technology engineer
design engineer
research engineer
Program subjects
Modern problems in opto-electronics
Laser optics
Modern opto-electronic component technologies
Physical fundamentals of micro and opto-electronics
Current status and trends of fiber-optics
Modern aspherical optics processing and control technologies
Leading-edge crystal processing technologies
Optical research methods and instruments
Graduating Department:
Department of Optical and Biotechnical Systems and Technologies